One day or day one, you decide
Work more efficiently as a coach & help clients achieve their goals
PHS Software is an all-in-one software that enables coaches & professionals to work more efficiently and achieving better client results. It reduces the administrative burden of the coach and ensures better communication with the client.
Our software is linked to the MyPHS client app, which gives you as a coach even more tools to achieve the best results for your clients.
Free tips, tricks & inspiration
Free access to our Youtube Exercise Database
Every exercise in our PHS software is linked to a video from our Youtube database to see how a certain exercise should be performed. All your clients will also see these videos in their myPHS app to make sure they know which exercise is meant in the training program you made as coach.
An all-in-one software
Possibilities & features:
Below you'll find a list of all the features of our coachingssoftware.
Nutrition programs
Make personalised nutrition programs with self-made templates using our nutrition database.
Training programs
Make personalised training programs with self-made templates based on our exercise database including tutorials.
Skinfold measuring
With this feature you can collect and analyse all skinfold measurements per client. You can choose between 4, 7 or 14 points.
Client management
One up-to-date database for all your clients with the possibility to filter on: last new biofeedback, new workout completed,...
Exercise database
All exercises in PHS and myPHS are linked to our free YouTube exercise database.
Write biofeedback templates for your customers to fill in via de myPHS app.
Set up a digital intake form and let your clients fill it in directly through myPHS.
Chat with your clients via myPHS and avoid extra unnecessary communication channels.
Communication with your clients
myPHS: The all-in-one application for your clients
With myPHS your clients can view your personalised training and nutrition programs and log their workouts. This application is the link between the software and your clients. Soon, it will also be possible to set up a digital intake form and regular biofeedbacks according to your frequency in our app. We will also add a chat function to make sure all communication can be done via myPHS and no extra external channels are necessary anymore.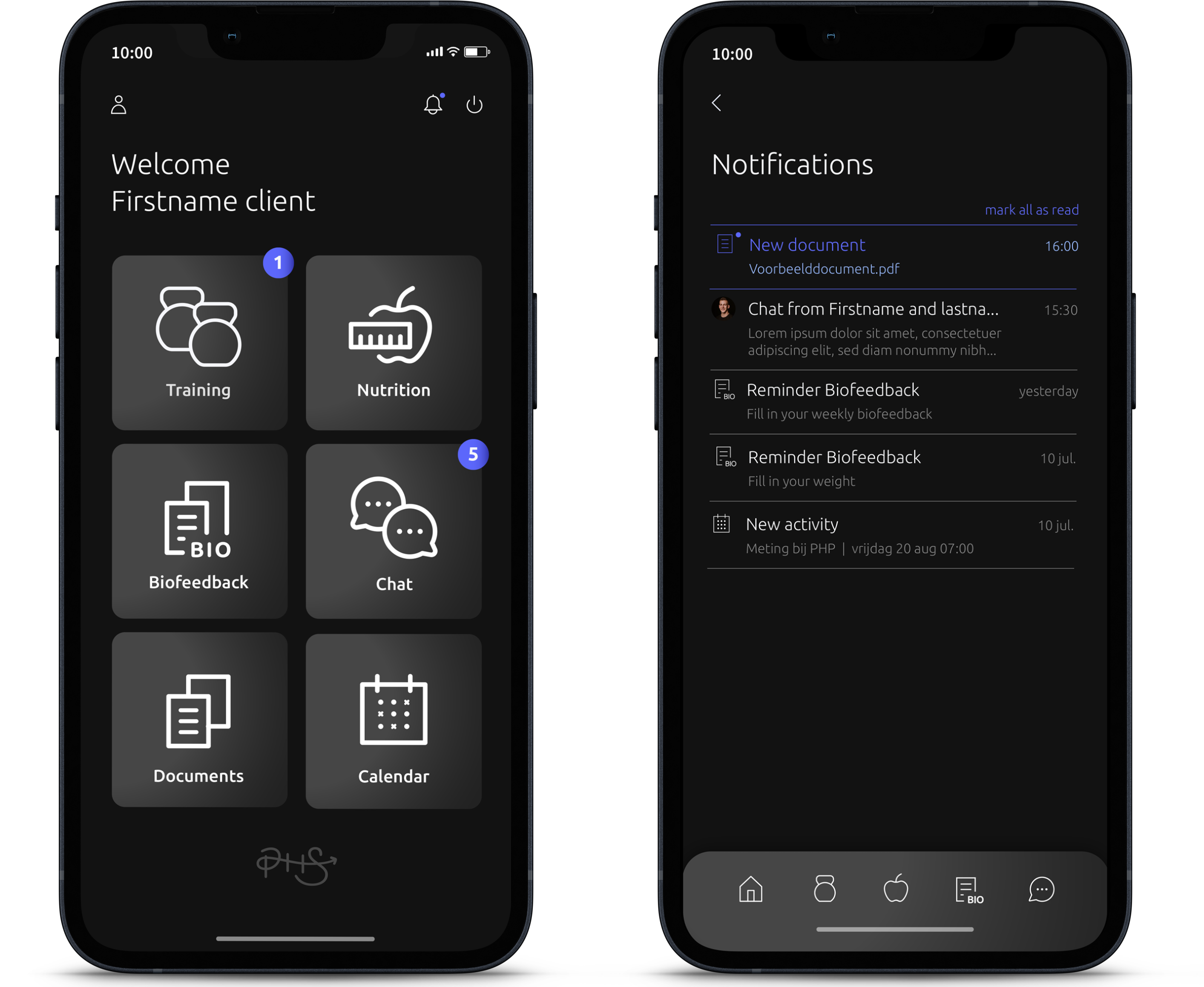 Curious about our software?
Request your free quote here
Plan a no-obligatory conversation right away where we take the time to walk you through our software and all features!
What do our customers say?
An indispensable tool for each of our customers
As a personal trainer I am always looking for the most efficient & professional way to guide my offline & online clients. At the beginning of March I came into contact with the software 'personal health solution, PHS'. Since then I haven't worked a day without it. Before this I worked with another software that never fully met all requirements. In the initial phase, PHS offered the perfect way to draw up clear, complete nutritional plans. Because I was there from the start, I was able to follow all the new features step by step. And I can say that I am only more convinced of the already extensive range.

Especially with the upcoming features, this will be THE software for every personal trainer. In short, a total concept for professional guidance and follow-up. And this of Belgian origin.
Jonas Jolie
Manager | Het Systeem
Kim & I myself have been active as PT for several years and that entails a lot of nutritional guidance. We have been working with PHS for a little over a year now and it has helped us to do our work really efficiently . Finally able to draw up nutrition schedules in a clear and accurate way. This only benefits our customers and that is reflected in even better results. The training schedules and exercise database are also extremely useful. This helps us in particular to offer our Online Coaching customers a clear implementation of the exercises.

At HiLTH we are really counting down until the chat and training synchronization are active so that we can carry out our follow-up even more professionally and also let our customers follow their own progress online. We are very pleased that there is finally a complete trainer software on the market that is user-friendly for both trainer and customer.
Joakim Stevens
Manager | Hilth
About us
Meet the team behind PHS Software
Martijn
CO-founder, Sales & Marketing manager, Modules Developer
Jason
Co-founder, Software Manager, Modules Developer
Stefanie
Project Manager, Marketing Manager
Jim
CO-founder, Finance & Software Manager, Modules Developer
Support
Questions, comments or need support?
Support, feedback & requests
General questions
Can be reached by phone on working days from 9 a.m. to 5 p.m
Phone: +32(0)472 79 78 46
Mail:
Blauwvoetstraat 9
8400 Ostend